FOB MuzzleShot Review of SKD's PIGs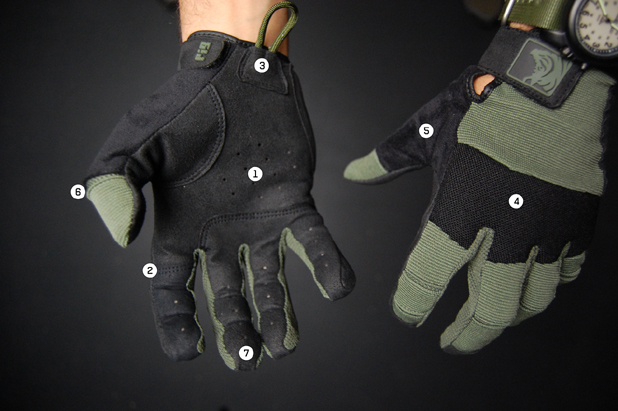 FOB MuzzleShot (as in Forward Operating Base MuzzleShot) recently ran a good if succint review of the Patrol Incident Glove (PIG) "full dexterity incident glove". Says FOB Muzzle Shot, "Designing a great pair of gloves is a game of compromise between protection and sense of touch. Somewhere in between these two contrary goals are things like ease of use, comfort, utility and of course, style. Using this metric, PIG have managed to provide an incredible amount of protection for a full-fingered glove.."
Among their observations:
2: Trigger fingers on both gloves are sensitized with ultra-thin Clarino fabric. If you currently wear fingerless gloves, perhaps this is the full-fingered compromise you've been waiting for.

4: Now, its really hard to tell from the photos and PIG's low-profile design but the knuckles are extremely padded. They're not kevlar or carbon-fibre but they provide serious protection and warmth. You wouldn't tell by just looking.
According to the manufacturer these gloves were over "…2 years in the making [and offer] ground breaking dexterity while providing much needed protection from the rigors of tactical work. Developed by a Rogers Shooting School [Bill Rogers] "Advanced" graduate with over a decade of experience in instructing Military and Law Enforcement personnel, the FDT-Alpha Gloves were designed from the ground up to minimize impact on the shooter's grip. Instead of following the tired old routine of reinventing the Aviator Flight Glove, or making a "cool" looking glove with padding and layers in all the wrong places, the PIG design team partnered with the pre-eminent designer from an industry that actually makes gloves that fit really well- the sports glove industry…
Read the review in its entirety here.
Note: if you're not up to speed, FOB MuzzleShot takes its name from the "tactical shot glass" seen below. Featured in RECOIL #7, manufactured by Leitner Wise Manufacturing, sold here and now providing proper load carriage to adult beverages around the world.