Preview – Range Estimation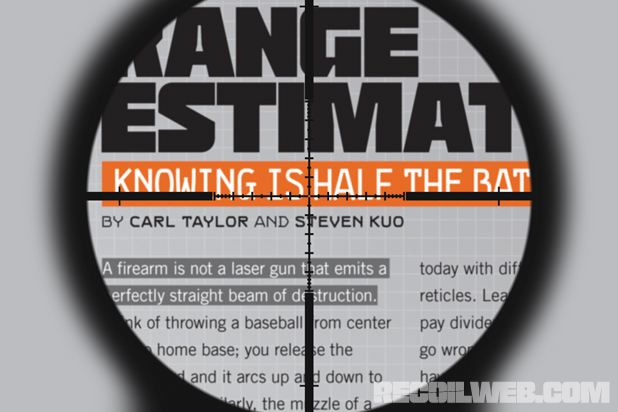 and Steven Kuo
Knowing Is Half the Battle
A firearm is not a laser gun that emits a perfectly straight beam of destruction. Think of throwing a baseball from center field to home base; you release the ball upward and it arcs up and down to the catcher. Similarly, the muzzle of a weapon is elevated relative to the line of sight. So as a bullet goes straight out the bore and departs the muzzle of your weapon, it then travels in an arc — initially up, then back down again — as it hurtles toward your intended target. As a result, if you don't know how far away your target is, you will be hard pressed to hit it as the distance increases. Some weapon systems will shoot flatter than others, but they all launch projectiles in an arc. The bullet's trajectory, however, is predictable.
So in order to be successful in the long-range shooting game, you must know the distance to your target in order to work your ballistic shooting solution — i.e. where to aim relative to the target. While we are fortunate to have great tools like laser rangefinders to help us with the task, batteries die, electronics fail, and gear gets left behind.
Knowing how to estimate range using just the reticle in your scope is a crucial skill. There are many scopes available today with different types of ranging reticles. Learning how to use them will pay dividends in the field when things go wrong with electronics or you don't have access to a rangefinder. Once you have gained the initial data for your ammo and weapon system by shooting at known distances on the range and recording where your bullets strike (commonly referred to as DOPE, or data on previous engagement), it is time to take on the task of range estimation at unknown distances. To get the most out of your reticle, you must first decide which type is right for you. There are many reticle designs on the market with various strengths and weaknesses, but generally speaking they will be based on either the mil or MOA.
Minute of Angle
For most non-military first-time shooters in the United States, the minute of angle (MOA) system will likely be the easiest to use, as it relates to the standard method of measurement most commonly used here. Breaking down the MOA is fairly simple. It is an angular measurement — think of a 360-degree circle, with 360 degrees of arc all the way around and 60 minutes in each degree. That results in a total of 21,600 MOA around the circumference of a circle, each one like a really thin slice of pizza. One MOA translates to 1.047 inches at 100 yards, 3.141 inches at 300 yards, 5.235 inches at 500 yards, or 10.47 inches at 1,000 yards.
For the rest of this article, subscribe digitally here: RECOIL Issue 7